Today we'd like to introduce you to Chris Arpad.
Chris, can you briefly walk us through your story – how you started and how you got to where you are today.
Thank you so much, my story: Well … I'm a gigging musician based in Los Angeles, primarily as a solo steel drummer. Over the years I've crafted a unique performance of singing and playing steel drums live over my own custom-computerized music tracks, with reggae and island music like Bob Marley, Jimmy Buffett, Santana, Beach Boys, UB40, etc. I am a One Man band, but I tend to avoid that moniker because people have such varying ideas of what that is. So I generally prefer the term Solo Steel Drummer.
Most people know what steel drums are these days; or at least they recognize it when they hear it. It has an exceptional sound that is distinctly island sounding by nature. For those that may not know, it's a hand-crafted percussion instrument, or drum, created from 55-gallon oil barrels and originates from the island nation of Trinidad.
I was fortunate enough to meet and study with the instrument's inventor, Ellie Mannette back in 1985 while attending college at Wichita State University in Kansas, and that's where my lifelong passion was ignited. Along the way I discovered that I am a solar-powered musician; I need the sun and palm trees! So I left the wheat fields of Kansas and followed the sun to California to perform steel drums full-time, and thus far the journey has been a liberating, wild ride! Over all, I just feel so fortunate to be making a living playing music on my own terms.
Great, so let's dig a little deeper into the story – has it been an easy path overall and if not, what were the challenges you've had to overcome?
Well, when your livelihood is paired with your passion, there are bound to be challenges like no other.
I think the trick is to find a balance between the two. You know . . . as much as you might like to perform for free, the necessity of life requires a discipline, a business acumen and sense of structure if you are going to make a living at it. I seem to have been blessed with a big picture view, and I have found a way to enjoy the business side of music, and using creativity on that level too – negotiating deals that are thinking outside of the box, finding unusual places to perform, creating win-win scenarios that benefit more than just myself, I find that is very rewarding too. I think that may be one of the secrets of my success, and overall longevity of my business. I've been at it now over 30 years.
From a strictly business perspective, I 'd have to say that one of the biggest challenges over the last, say 20 years or so, has been from the online business referral/database type sites that do bookings. Most every service business out there these days has found it to be a necessary evil, from Plumbers, Travel Agents, Real Estate, you name it and there is a site on-line that purports to being the best site for finding you the best at the lowest price. It's such an impersonal way of doing business. Perhaps that's just me getting old.
I've had varying success with these booking sites over the years. However, mostly these days, it's almost always a fruitless race to the bottom, cutting your rates to secure a booking, and then having to pester clients to send in a review to secure your ranking, etc. Not my style. What can I say? I do subscribe to a few free listing sites here and there, to have that web presence and I'll occasionally connect with a new client that might not have found me any other way. But by and large my business connections are made personally, and nurtured. Word of mouth and repeat business has been the mainstay for me over the years. My client list almost reads like a family tree, and that's great!
Chris Arpad – Solo Steel Drummer – what should we know? What do you guys do best? What sets you apart from the competition?
Well first off, I am mostly known for being a steel drum soloist. That is my specialty – my claim to fame, in fact if a client insists on a larger group these days, I generally refer them to other steel drum bands that I know. I have had large bands in the past and I prefer to focus on my solo performances. It's what suits me best. That's my lane so to speak, and I'm very happy with it.
I'm sure you have heard the phrase "under promise, and over deliver." Those are words that I aspire to with my performances. I like to arrive early and be set up well in advance of every show. At private events I'll usually start earlier than the contracted time, especially if guests are arriving. I enjoy first reactions of unsuspecting guests as they walk in and hear me from a distance. It's as if they are coming upon an oasis, their faces light up and those positive vibrations wash over them . . . I guess that's what I feel I'm creating, oasis events . . . the welcome feeling of relaxation, that laid back beach party, grab a cold drink and let the sound of steel drums take you away.
Yeah, I genuinely love what I do and it shows when I'm performing. In fact, I rarely take breaks, it's true! I just hate to break the spell that the music creates. So that could be advantageous to anyone looking to get the most music for their money. I am often complimented on my singing and the eclectic mix of music – beyond the tried and true calypso fare routinely associated with steel drums.
I am not opposed to providing DJ music for events along with my live performances and that is often attractive to wedding events on a budget. I use Bose sound equipment for the best in sound, and I am the perfect live entertainment solution for space challenged venues! I can even provide my own shade and electricity for remote/outdoor events. Have trailer, will travel!
Cocktail hours and dining music is another area of specialty, in that I strive to adhere to any volume constraints and/or required energy level for every event. Basically, there are times when I am expected to be the spotlight and other times I am meant to be the wallpaper – in the background, almost felt more than being heard. There's a time and place for both situations and often times that occurs several times in the same event.
People come out to hear me at shows and tell me that I remind them of their last cruise, or favorite vacation, and more than once I've been told that my shows are a mini vacation.
What moment in your career do you look back most fondly on?
That's a most unfair question, my goodness! I am proud of so many shows and performances over the years, how can I name just one? I've played for so many charities, and events for various causes. I've met and performed for so many celebrities. But I'm prouder still for private parties for people that were seriously ill and dying, I mean what an honor you know? Every wedding and first birthday parties are so special. I have often wonder how many cameos I've made in photo albums around the world!
Last year I had the good fortune to return to my hometown of McPherson, KS and perform for "Concerts for the Cause" series and help raise money for a great cause, and also performed for my parents' 50th wedding anniversary celebration. That was a great thing and I am very proud of that. Celebrating life's milestones is always something to be proud of.
What quality or characteristic do you feel is most important to your success?
Belief and trust in myself, and the fact that performing on steel drums makes me feel good.
It really seems to make others feel good too. So, I like the idea of doing this all my days and sharing that positive vibration as long as it will sustain me and others. I'm having fun and I know my audience is too. My success is measured by each continued day I get to keep doing that.
It's that infectious tone of a steel drum – it rings out the celebration in all of us, and it's just a natural thing, the perfect music for celebrating all of life's special moments. So . . . when you're in an island state of mind, or in the need to be . . . I'm the guy to call. I got you covered! Thanks so much. I appreciate this interview.
Pricing:
Pricing for my performances is flexible per event, but generally start at $250 First One Hour minimum
Contact Info: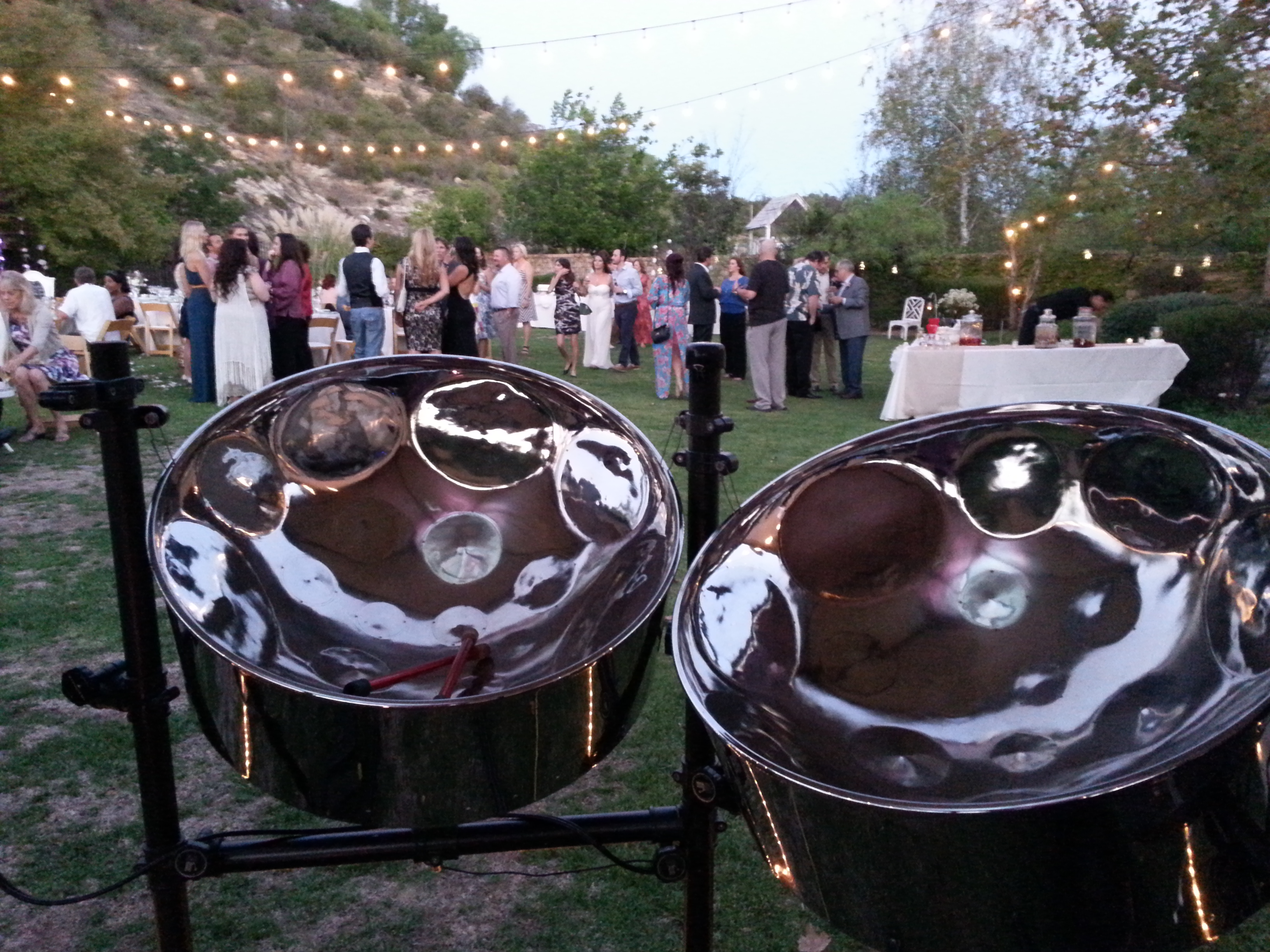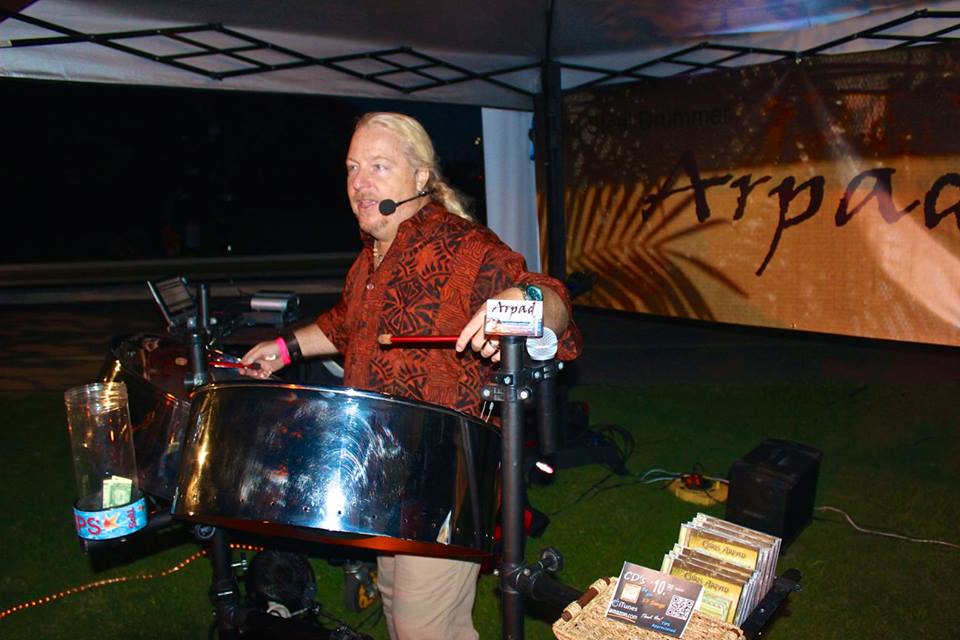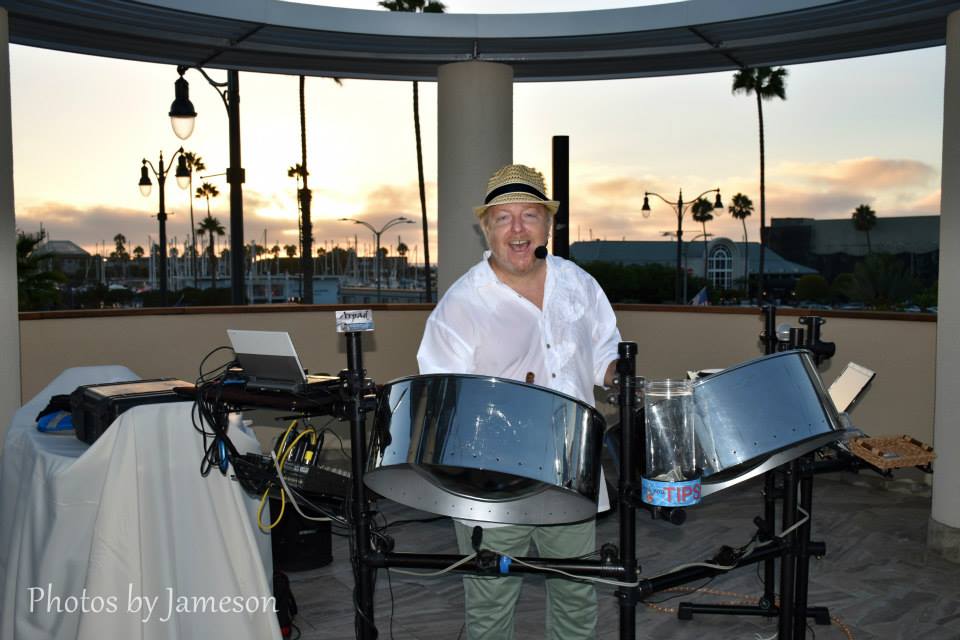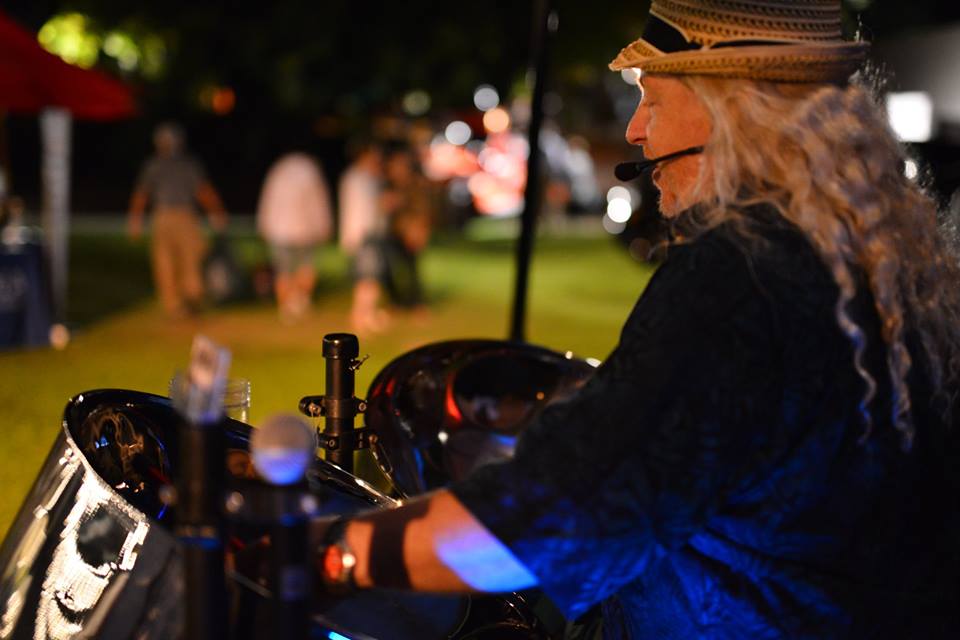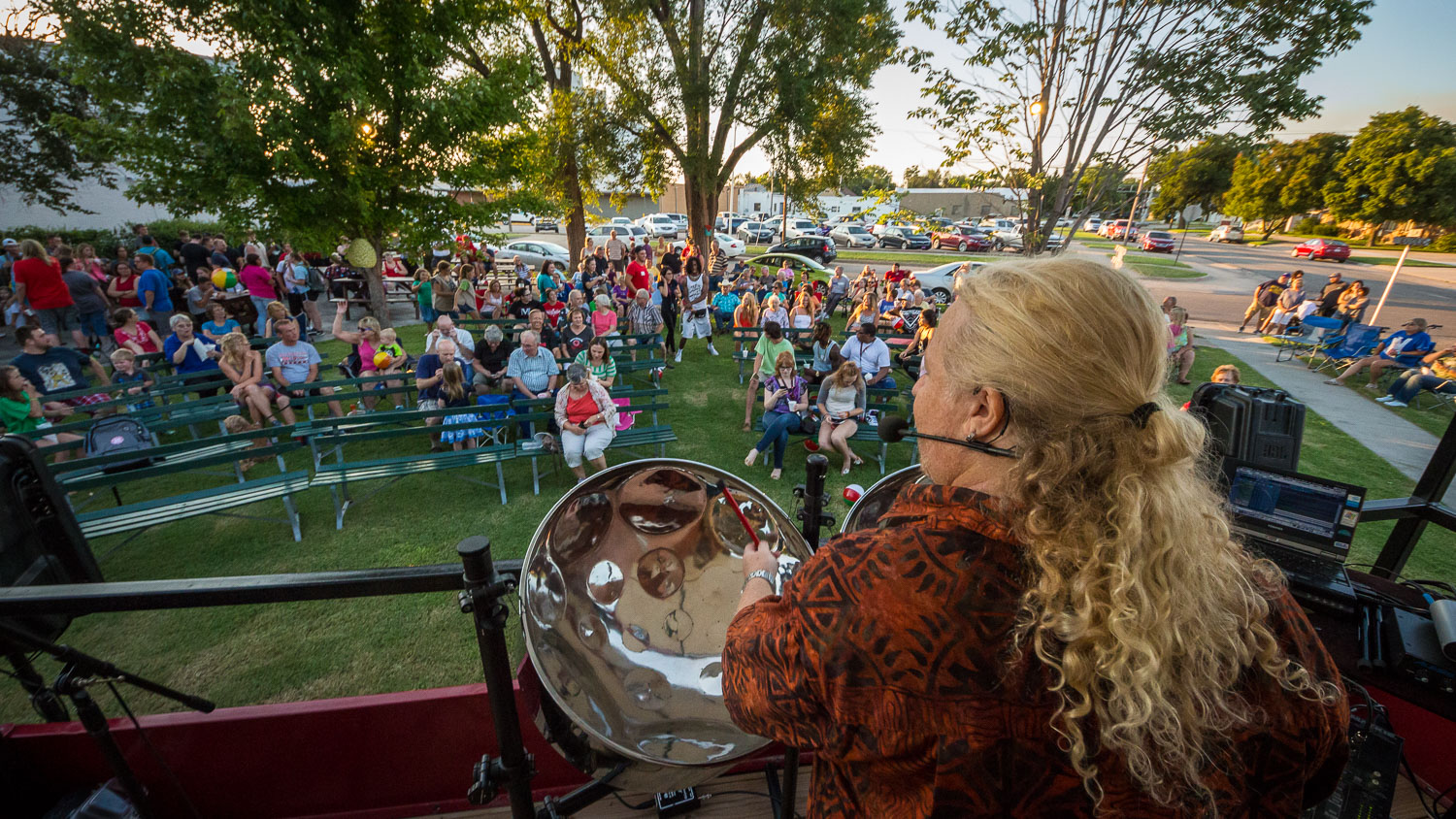 Image Credit: Jameson Wong and Jim Griggs      Originally posted VoyageLA, March 27, 2017