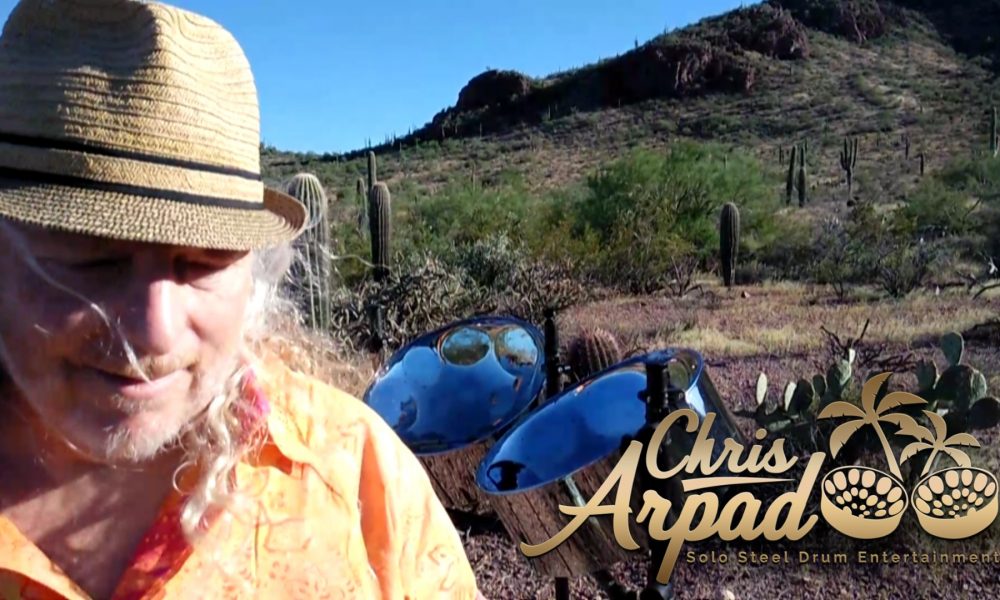 Today we'd like to introduce you to Chris Arpad.
Hi Chris, can you start by introducing yourself? We'd love to learn more about how you got to where you are today.
Ok, well, in a nut-sell, I started life in Kansas. Spending the first 17 years growing up in the small town of McPherson, lived in Wichita for 10 years, where I studied music at WSU, and ultimately discovered the steel pan migrated to Los Angeles, California (where I've lived for the past 27 years) in search of perpetual sunshine and performance opportunities. Now I've been drawn to the Sonoran Desert of Arizona as I continue to follow my passion for sharing music, and life, as a solo steel drummer.
Often we don't entirely know why we do the things we do or make the decisions we make; whether subconscious or deliberate, these moments collectively become our personal journey in life. My adventurous and fearless spirit drives me to seek new experiences and audiences, and my journey continues.
As a child, I vacillated between wanting to be an artist and a musician (specifically playing the drums) and realizing at an early age that a music performance was fleeting ("you are only as good as your last performance"), which made me want to keep doing it. Or, perhaps it was merely a pragmatic point of view, "what on earth will my mother do with all of my artwork?" So I poured my heart into drumming and played in every situation that needed a drummer and even a few that didn't!
After high school, I decided to attend college, where I faced my next crossroads decision – a degree in Music Performance or Music Education – neither of which seemed authentically fulfilling to me at the time. However, Music Education seemed the most logical choice, and I chose to major in Music Education with an emphasis on Percussion. At Wichita State University in 1985, my percussion professor, Dr. J.C. Combs, introduced me to Steel Drums and the instrument's foremost creator, Dr. Ellie Mannette.
Steel Pans, aka Steel Drums, are handcrafted instruments made from 55-gallon oil barrels from the island nation of Trinidad. It was such a privilege and honor to have had the opportunity to study with Dr. Mannette. His passion and integrity for the instrument resonated with me deeply and immensely inspired me. I'm thrilled to be still performing on them today.
I also credit Dr. Combs, who encouraged me to participate in a pilot program, Entrepreneurship In The Arts, created by the Associate Dean, College of Fine Arts, Walter Myers, in 1989. Also, during this time and course of study, I managed and performed with my steel drum band, Stainless Steel. My takeaway from these experiences was a deep connection with the steel drums, but perhaps not in an educational or band setting. My study of Music Education, my love of performing, and the success and ultimate demise of the band were all pivotal factors that came together and shifted the trajectory of my life.
My wanderlust spirit and passion for playing steel drums led me to follow the sun, and in 1995 I headed West to Los Angeles. I began experimenting with the latest computer and music technology. I discovered I could supplement my sound with backing tracks and create a full band sound while focusing on my solo performance. I enjoyed the flexibility and freedom of performing solo, and the laid-back sunny Southern California lifestyle agreed with me.
I treasure the 27 years I lived and performed in Los Angeles and the many wonderful and varied opportunities it offered me. However, as I realized that my overall quality of living in Southern California had degraded substantially over the last couple of years, I began preparing for the inevitable. I had to face the hard reality that I had come to another fork in the road, and a life course correction was imminent. I believe that things happen for a reason. "With all things, there is a time and a season" It was time for me to look positively toward the future and a new place to call home. After much contemplation and at the invitation of a longtime close friend, I chose to consider the prospect of Tucson and leaped. I have not been disappointed; quite the opposite. Surprisingly the challenges and opportunities of this desert community have been more rewarding than I could have ever imagined! Tucson has a wealth of musical talent and a diverse artistic community; many great restaurants, wineries, microbreweries, resorts, and casinos. The scenery, sunsets, and mountains are breathtaking, and I've enjoyed meeting many great people. I've discovered a unique mix of locals and tourists from all over, and I'm just beginning to scratch the surface of the possibilities that Tucson and Arizona have to offer.
Can you talk to us about the challenges and lessons you've learned along the way? Would you say it's been easy or smooth in retrospect?
It can't go without being noted that Covid was and will remain an obstacle, but it can and will be overcome. It simply has to. I was in Los Angeles during the shutdown we all experienced, and it was difficult. Finding a place to perform was indeed a challenge, but I found solace in performing for the PopUp Boutique and Artist scene safely outdoors. I also did video zoom performances and spent a good deal of time working on new music and videos. The collective camaraderie and the support of creative artistic people are amazing! Staying in a positive mindset is the biggest challenge, and music has never let me down. I would say that balancing passion and livelihood is a constant challenge. You know, as much as you might like to perform for free, the necessity of life requires discipline, business acumen, and a sense of structure if you make a living at it. I seem to have been blessed with a big-picture view. I've found a way to enjoy the business side of music by utilizing creativity on that level, finding unusual places to perform and unique solutions to challenges, negotiating deals that are thinking outside the box, and creating win-win scenarios that benefit more than just myself. I find that aspect very rewarding too, and this may very well be one of the secrets to success and the overall longevity of my business. I've been at it now for over 37 years.
Thanks for sharing that. So, maybe next you can tell us a bit more about your work?
Over the years, I've crafted a unique performance of singing and playing steel drums live over my custom music tracks, with reggae and island music like Bob Marley, Jimmy Buffett, Santana, Beach Boys, UB40, etc. I am a One Man band, but I tend to avoid that moniker because people have such varying ideas of what that is. So I generally prefer the term "Solo Steel Drummer." My music repertoire is expanding, including Motown, Hawaiian, and Yacht Rock. I am always amazed at the requests I receive from my audience, but it's all fair game in my book. If you imagine me playing it in your mind, I'll try it. I love to perform!
I can perform in a small space of about 8'x 8' at the minimum, on almost any dry flat surface. One standard electrical outlet for the sound equipment, and I'm good to go. I can perform indoors or outdoors. I require a shaded area as the steel drums tend to detune in direct sunlight – the chrome surface of the steel pan gets exceedingly hot and expands, causing it to sound not good! Yeah, I genuinely love what I do, and it shows when I perform. I rarely take breaks, it's true! So that could be advantageous to anyone looking to get the most music for their money. I am often complimented on my singing and the eclectic mix of music I perform beyond the tried and true calypso fare routinely associated with steel drums.
I use Bose sound equipment for the best in sound, and I am the perfect live entertainment solution for space-challenged venues! I can even provide my shade and electricity for remote/outdoor events – I have a trailer and will travel! Cocktail hours and dining music is other specialty area in that I strive to adhere to any volume constraints and required energy level for every event. There are times when I am expected to be in the spotlight, and other times I am meant to be the wallpaper (in the background, almost "felt" more than being heard.) There's a time and place for both situations that often occurs several times in the same event.
I love it when people come out to hear me at shows and tell me that I remind them of their last cruise or a favorite vacation, and more than once, I've been told that my shows are a "mini vacation." For me, performing music for private events has been the most rewarding. Being invited to perform at someone's home on their special occasion is an honor. Music creates an intimate bond, and I'm fortunate to remain friends with clients for years, maintaining friendships that foster repeat business, which is a true joy and blessing.
Music heals and brings us together like nothing else, whether in good times or in times of doubt, chaos, and turmoil. Playing the steel drums stirs my soul; the uplifting and healing vibrations well up inside me, creating an oasis for all those around me. I feel no pain but rather a sense of bliss that's hard to explain, so generally, I try not to, and I play! I want to stay in that flow and draw my audience in. I find it difficult to stop, and that always inspires me to want to do it again as soon as possible! The energy I get from my audience amplifies my inspiration. I welcome feedback and requests from my fans and listen to them. I do my best to tailor my music, to make it relatable to the event and my audience whenever possible, and to make the most of every performance. As a result, there's an organic ebb and flow of mutual positive vibrational energy, which is largely why my music selection is so eclectic and continually evolving. I always look forward to returning to places I've called home and the loved ones I've known, as well as to the next new place around the bend and the new fans and friends I have yet to meet and play for!
Before we let you go, we've got to ask if you have any advice for those just starting.
As for advice for others, I'll borrow the quote, "do what you love, and you never work a day in your life"!
Pricing:
Pricing varies but generally $175 per hour
Contact Info: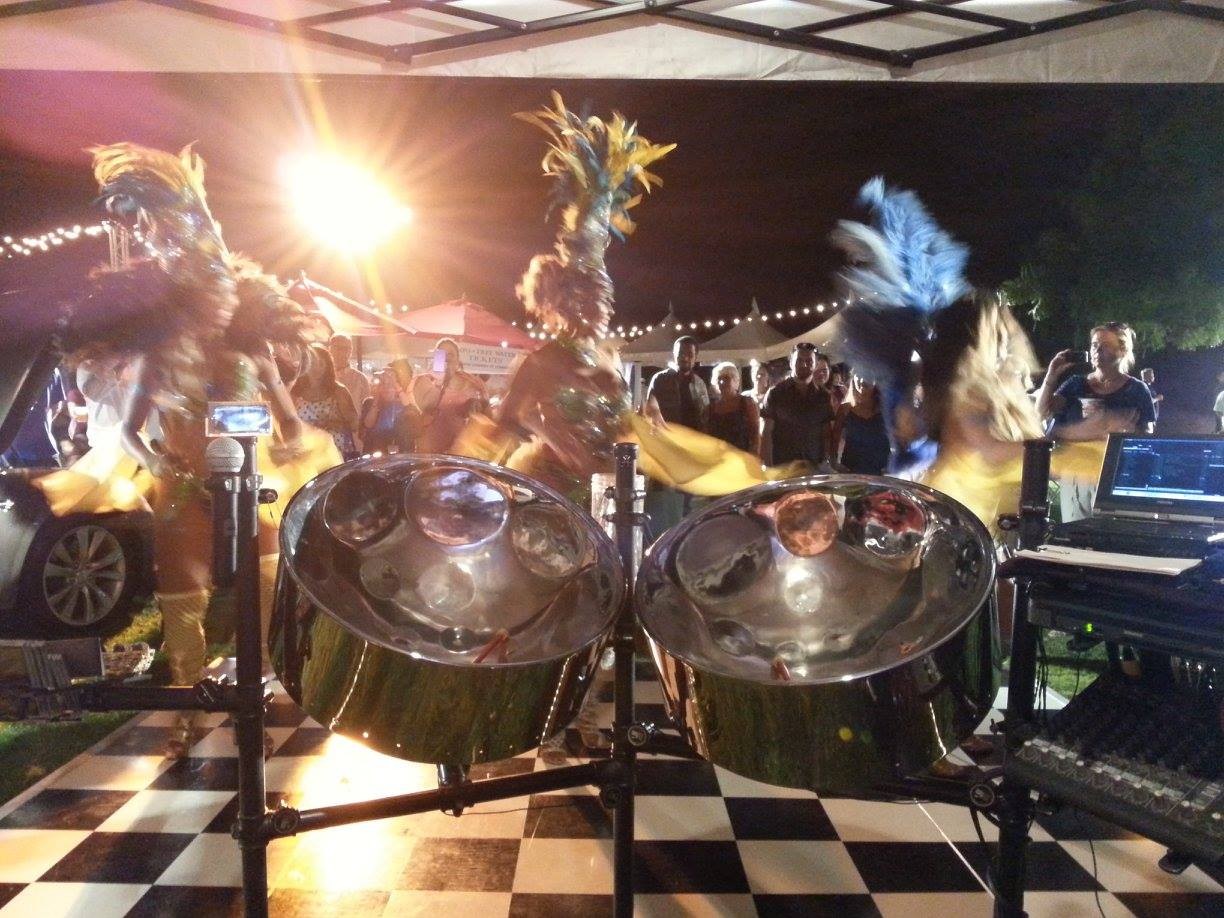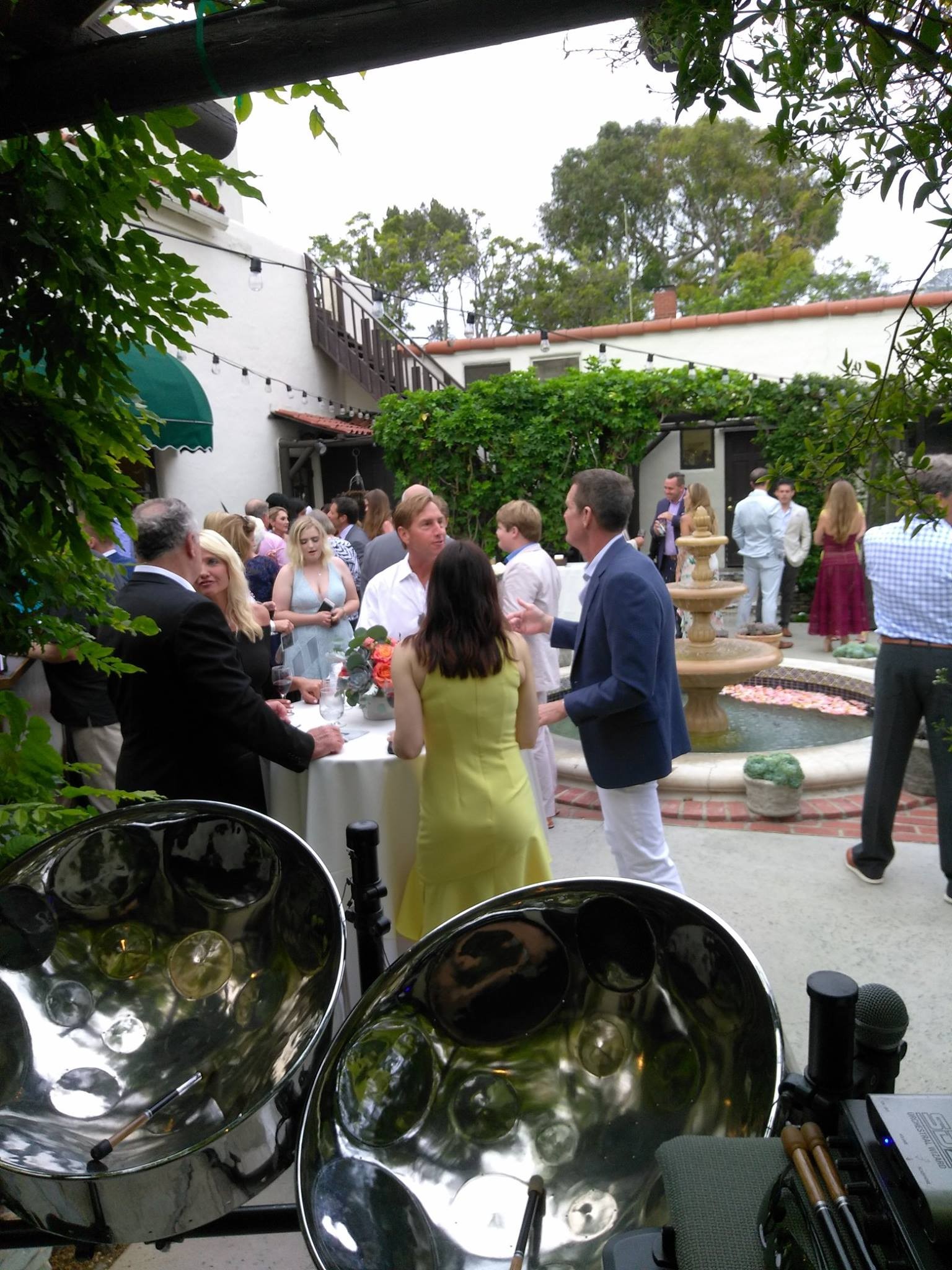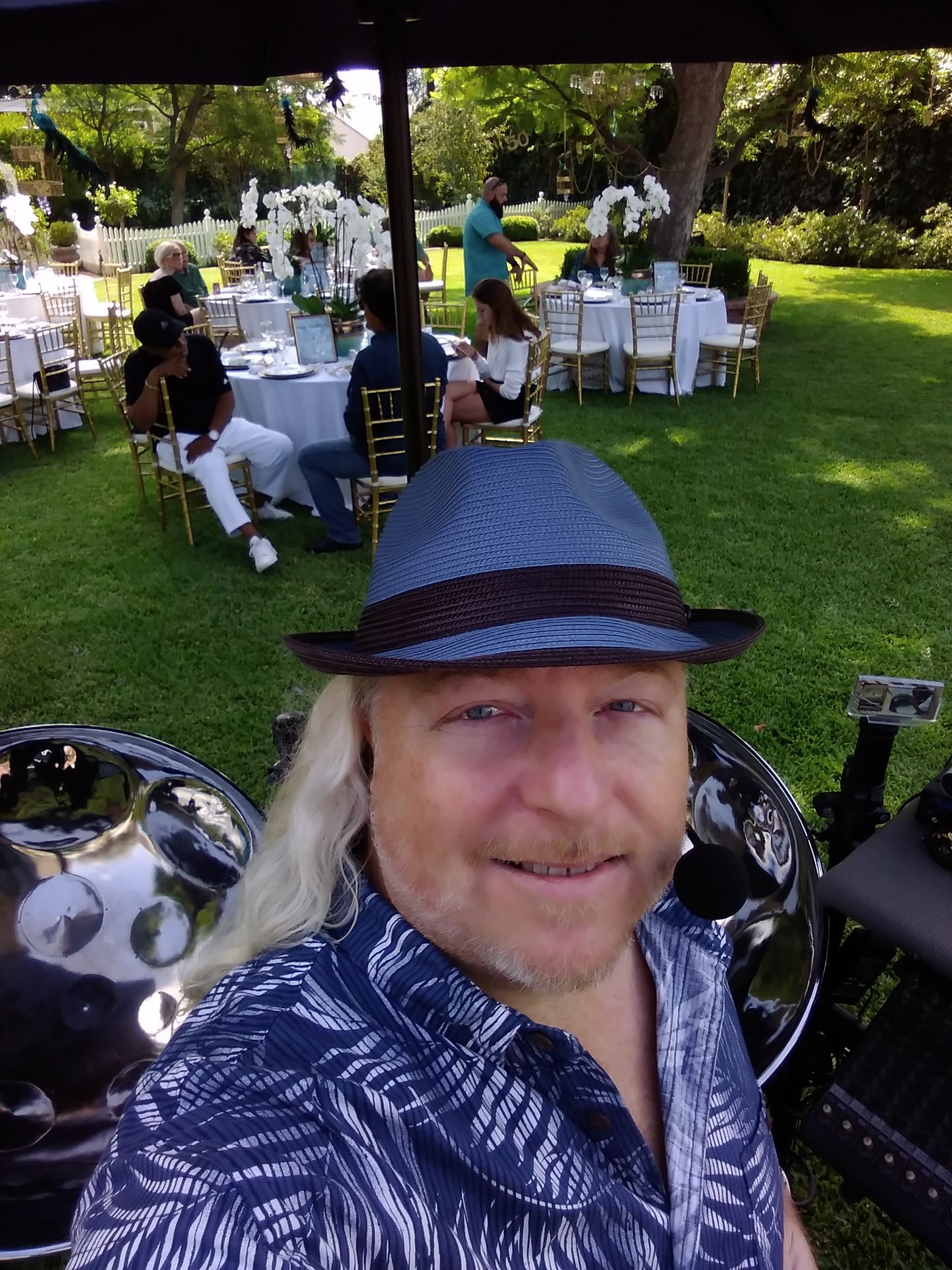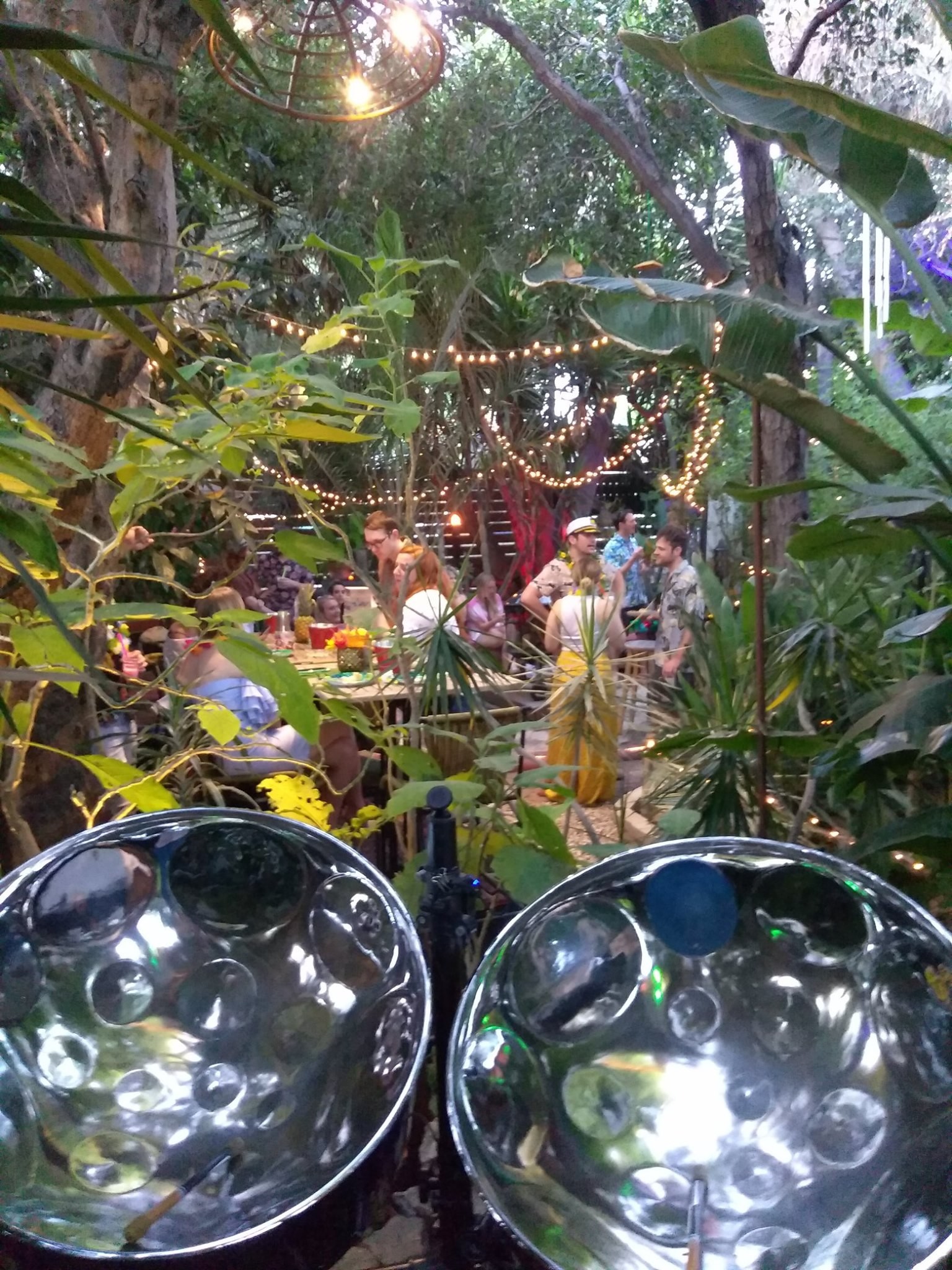 Image Credit: Vicki & Chris Arpad      Originally posted VoyagePhoenix, September 28, 2022