When you think of the steel drum, you might picture yourself relaxing on a tropical vacation. But did you know that the steel drum was born out of poverty and a local ban on drums? The steel drum originated in the late 1930s on the island of Trinidad and was played as part of a steel band, a percussion ensemble contrived by lower-class rebellious teens.
Cylex: Where did you learn the craft of steel drums?
Well the short answer is . . . I learned to play steel drums in Wichita, Kansas.
I learned to play the steel pan of Trinidad while studying music at Wichita State University with Dr. J.C. Combs as percussion major in 1985.  People often ask me this question with a sense of wide-eyed wonder, imagining that I grew up in Jamaica or Tobago. In reality, I've never been to Trinidad.  It came to me…
Dr. Combs was the instigator and always a strong supporter of a steel drum program in his teaching at WSU.  As head of the percussion department, he raised funds for the purchase of a complete set of steelpans, and tirelessly promoted the entire program – inviting the instrument's creator and inventor Dr. Ellie Mannette to the campus for seminars, and tunings, as well as Andy Narell, one of the foremost steelpan educators and steelpan artist.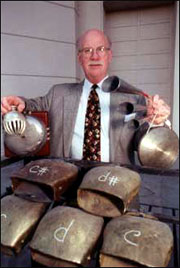 Dr. JC Combs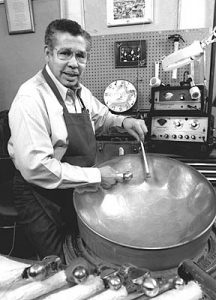 Dr. Ellie Mannette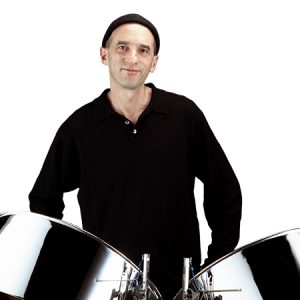 Andy Narell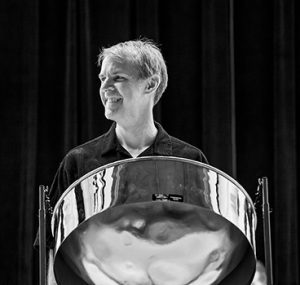 Gary Gibson
I initially studied with Gary Gibson briefly as a college freshman. He was a graduate student at the time, and on his way out into the world.  Gibson now continues prominently on the steel drum scene with his Two Trees Music publishing company and Seanote Productions. He is a recognized steel pan clinician, artist, and composer, and runs his own steel drum program in Washington State called Steel Magic Northwest.
But it was Dr. Rick Garcia who was a major influence in my early association of steelpan at WSU. His ethnomusicology course taught me so much about rhythm and harmonies from all over the world with emphasis on Latin and Afro Cuban music. He was a graduate student at the time, a great friend and mentor.  "Stainless Steel" steel drum band was born out of his class and the beginning of my touring days with steel drums as we took the band on tour to Texas during spring break.  It really was the best of times!  We did a lot of experimentation with steel drums in those days; he introduced me to Salsa and Cumbia – adding a horn section to the band, and teaching me to play congas, bongo, and timbales.
As my interest in steel drums grew, I decided to focus even more and attended a summer course in Haystack Oregon in 1987. It was a steel pan master class hosted by Dr. Ellie Mannette, Andy and Jeff Narell, and Tom Miller. It has since evolved and grown into "Ellie Mannette Festival of Steel" and moved to Morgan Town, West Virginia where Dr. Mannette resides as an artist in residence. It was a wealth of information and great time with focused study on the actual building of steelpans and group performance study with the very masters of steelpan.
From there I continued on with managing and performing with "Stainless Steel" and incorporating musicians outside our course curriculum. We wrote original music, performed large concert shows, made television appearances, music videos and enjoyed impressive overall regional success throughout the Midwest from 1986 -1991.
Stainless Steel showcased at SXSW music and media festival in Austin, TX in 1990 – 91,'and toured throughout the states of Minnesota, Kentucky, Colorado, Oklahoma, Texas, Missouri, and Kansas … opening concerts and sharing stages with such notable performers as legendary guitarist Carlos Santana, steel drum virtuoso Andy Narell, jazz guitarist Stanley Jordan, comedian Sinbad, power jazz group Tower of Power, singer guitarist Bonnie Raitt, classic rock and roll band Head East, blues guitarist Jeff Healey, and reggae great Steel Pulse.
Cylex: Do you play alone or do you have other instruments that play along?
Well both actually, let me see if I can explain…
I remember when I was in Jr High School my band director Karl Ivers had this poster in his office that always intrigued me. It was a band group picture of sorts, but every member of the band depicted was him playing a different instrument; drums, trumpet, trombone, etc.  That image made an impression on me and then later I recall, towards the end of High School, the Korg synthesizer came out, and the beginning of MIDI was developing.  Musical Instrument Digital Interface would allow synths to be interconnected, controlled and played together, and I thought, wow someday I'll be able to be the whole band.
So fast forward to 1995, I migrated to Los Angeles and worked for a time at a company called Mobile Planet, which was on the cutting edge of mobile computing technology.  I was gigging as a soloist and sideman through the local musicians union and playing in various groups.  I started to grasp that the technology was finally developing that would allow me to realize my vision of being the whole band. I started experimenting, recording my own backing tracks into sequencing software onto a laptop and playing out with them.
I would create each of the instruments needed for a song by either recording them live with a microphone, or played in with midi via a digital keyboard.  Once that was all working I started adding vocals, and recording my own backing vocals into the tracks and it has just grown from there.  By combining the live and midi instruments along with the vocals the effect is that of a full band as a soloist. I have a mixing board on my stand well within reach, so I can control the volume of each recorded instrument, or mute them if needed – all live, in the moment.  So yeah, I sing and play solo steel drums live with the custom backing tracks of other instruments combined as a band of one.
Cylex: What performance requirements do you have?
Generally I have only a few requirements and they are mostly common sense things.  A flat, dry space is ideal, and a shaded area to perform if outdoors. The chrome surface on the inside of the pans really get hot fast and tends to make the instrument sound out of tune in the direct sunlight as they heat up.
I need just one standard electrical outlet for power.  A 10'x10' space is ideal for a performance area; however, I can usually find a way to work with smaller spaces too; one of the advantages of being a soloist, I can work in tighter areas!
Cylex: How is the price for an event determined? Have you been part of any
charity events? If yes, could you give us some examples?
Over the years I have established a competitive rate schedule that is based in part from the musician union scale and professional musicians' standards locally. It includes the performance fee and travel in the local Los Angeles area, about a 100 mile radius. I have the rates listed on my website as a general rate fee schedule listed there as follows:
$250.00 – One hour minimum
$350.00 – 1.5 to 2 hours
$525.00 – 3 hours
$700.00 – 4 hours
However, I do take into account budget considerations, location, and nature of the event, and any barter arrangements that are mutually beneficial. Since the nature of my performances vary greatly I have to take each one on a case by case scenario.
Yes, I have been a part of many charity events. Some examples over the years are:        
Museum of the American West, Alzheimer's Association Event
Elan International School Fund Raiser Concert, Los Angeles, CA
Villa Park High School Fund Raiser
Kiwanis Club of La Canada, La Canada, CA
San Dimas Senior Center, San Dimas, CA
The Tarzana Community & Culture Center, Tarzana, CA
Sisters of Sojourn, Pacific Palisades, CA
Corona Rotary Club, Corona, CA
Golden State Care Center, Baldwin Park, CA
In September, 2013 I provided all the music entertainment and sound for a Casino-themed charity event "Rolling for Wishes VI" at the Chuck Jones Center for Creativity, Costa Mesa, CA. I am happy to report it was a successful event. We raised over $60k for the Make-A-Wish Foundation, Costa Mesa, CA.
I have lost count of the many Riverside Community Hospital Cancer Survivor dinners I have performed over the years, which is a great thing. So glad their numbers increase every year!  
Last year was my first performance for the Susan Cohan Colon Cancer Foundation Inc., for their health fair event at the Santa Anita Mall raising awareness for colon cancer screening. I am so happy to announce that I will be back to perform for them again this year in October 2017.
I have performed for my hometown of McPherson, KS for the "Concerts For The Cause" series in 2015 and 2016. And I will be following up again this year on August 3, 2017 raising money for the local Girl Scouts.
And I'm so proud to be a registered luminary with the IfOnly organization. IfOnly provides access to a curated selection of extraordinary experiences that benefit worthy causes around the world. 
    Click image below to learn more:
My performances through IfOnly benefit the Musicians On Call charity which was founded in 1999 with the mission of bringing live and recorded music to the bedsides of patients in healthcare facilities. To date, its volunteers have played for half a million people nationwide. Musicians On Call continues its mission through bedside hospital performances by both local musicians and national celebrities as well as the Music Pharmacy and Project Playback Programs. 
Cylex: What type of music do you play?
This is always a tough question for me. For those in the know, the music most commonly associated with the steel pan is Calypso music, from its Trinidadian island birthplace in the West Indies. Everyone else assumes that steel pan comes from Jamaica and Bob Marley – that would be technically Reggae.  I explain the difference when apropos, but honestly, when people hire me it is generally for the sound of the steel drum.  And most anything played on a steel pan brings out the island flavor.
There are some who are known to play exclusively jazz, or classical music on the steel pan, but even then it all comes down to the sound of the steel pan and its joyous island tone. Perhaps it has become its own genre "Steel drum music". If you listen to Pandora you can find a station called Laid Back Beach Party. I find that about 85% of the music played there is on my playlist.
I play for the people. I am primarily a special events performer and as such I tend to play music that is recognizable and island sounding in nature. I'm not really about showcasing original music, rap, or hip hop. I'm somewhere between Tommy Bahama and Jimmy Buffett.
My music is an eclectic island mix of Reggae, Calypso, Jimmy Buffett, Carlos Santana, Bob Marley, UB40, Motown, Beach Boys and island favorites. The sound is a lively, laid back beach party vibe perfect for entertaining – not too loud but still engaging enough for dancing if you feel the urge.
Cylex: How long do you need to set up your steel drums/ steel drum
band? Do you take breaks?
If pressed for time I can set up in about 15 – 20 minutes, but ideally I like to arrive an hour early to address any unknown surprises and/or traffic conditions.  And then I'll put some background music on to set the sound levels and l set the tone of the event by playing a light melody such as Yellow Bird. This all depends upon the event and environment of course.
I love to perform and breaks don't usually fit into that for me.  One of the advantages of performing solo I guess!
I rarely take breaks, it's true! I just hate to break the spell that the music creates. I've often thought, "I come to perform, and no one is going to remember my break. I want people to remember my sound and how they felt when they heard it".
Cylex: Is there a special way you dress when performing?
If a theme for an event is given to me in advance I usually attempt to accommodate it in my choice of color, style etc.
I can perform in a tuxedo, or as casual as you care for me to be.  Once I even performed costumed as a pirate Jack Sparrow for a Halloween party, it's all fun. However, if left to my own devices you will find me in tropical themed attire befitting of the music I play.
Cylex: Do you travel all around the world to entertain? What is it that you like
about this type of music?
Yes, I do travel around the world to perform. As a soloist it is easier for me to consider opportunities requiring travel and I have enjoyed it. I've played from coast to coast, on cruise ships and small boats, and even travelled by helicopter to play for events. Now I have a trailer outfitted with a solar powered inverter that can provide my own power for hours of entertaining in remote locations. So perhaps I can find all the points in between to perform. My retirement plan is a 40ft RV and shows all across the country.
I'm happiest when I'm performing and the sound of steel drum heals me in a way nothing else does. I have no grand illusions of being the best steel drummer in the world, and fame and fortune is the younger man's game. I love playing for the people and celebrating life. Mine is a simpler goal, ambassador of genuine joy and good times!
Thank you so much for the interview. It's been a pleasure.