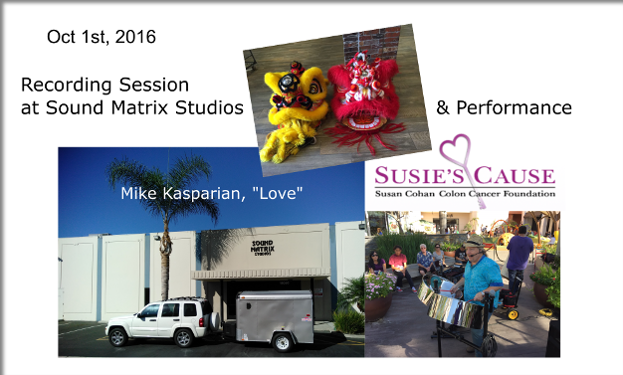 Amazing how a day can come together…
On Oct 1st, 2016 – I had the great fortune to record a steel drum track on this wonderful song, "Love" by Mike Kasparian at Sound Matrix Recording Studios in Fountain Valley, CA. It is not your typical steel drum song but it has such an infectious vibe it lent itself well for the collaboration. It was my first session with Mike Kasparian, and I truly hope it isn't the last. I didn't get many pictures during the session as it went by so fast. In fact, the entire recording session was about 45 min from setup to tear down. Just two passes on the song and Mike had captured what he needed from me; and then I was off to perform at Westfield Santa Anita promenade for the Susan Cohan foundation event, Susie's Cause. It was a free outreach health festival aimed at promoting colon cancer awareness. I was the final act of the day.
Preceding me were several groups: Mayfield Senior Women's Ensemble, the Mariachi Lindas Mexicanas, Memphis Mike and the Swinging 8 Balls, the Kyokushin Karate School, and the amazing Immortals Dragon Lion Dance Troupe entertained with their lively costumed dancers. The setting was wonderful with a Turtle pond in front of the stage, and nearby play area for the children. I wish I could have had a picture of the turtles when I performed; they seem to really love the sound of steel drums and were straining their necks to see me.
All in all the day was quite magical, and I feel blessed to have had the opportunity to be a part of it all. This video is the soundtrack that was recorded that day and snapshots from the day's events. I hope you enjoy it as much as I did. I love my work!!!